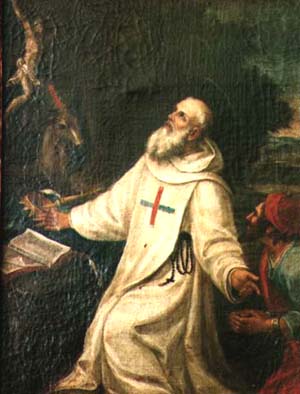 Quick Facts
Son of Count Raoul de Vermandois et de Valois and Alienor de Champagne.
As a child he received the blessings of Saint Bernard of Clairvaux and Pope Innocent II.
Educated at the abbey of Clairvaux.
As a young man, following his parents' extremely disruptive divorce, he renounced his wealth and took the name Felix.
Cistercian monk at Clairvaux.
Hermit in the Italian Alps.
Priest.
Hermit in the forest of Galeresse, diocese of Meaux.
Friend and spiritual teacher of Saint John of Matha.
The two of the founded the Order of the Holy Trinity for the Redemption of Captives (Trinitarians; Redemptionists) in order to ransom Christians held as slaves by Moors in Spain and Northern Africa.
The Order received papal approval on 17 December 1198, and within 40 years there were over 600 houses worldwide.
Today there are around 600 members of the Order working in prison ministries in over twenty countries, and they recently celebrated their 800 year anniversary.