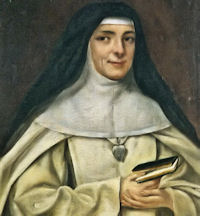 Quick Facts
Born during the French Revolution.
Studied at Tours.
Joined the Refuge of Our Lady of Charity at Tours on 20 October 1814, an order devoted to rescuing ""fallen"" women and those in danger of going on the game.
She took the name Marie-Euphrasie, and made her religious profession on 9 September 1817.
Superioress on 26 May 1825.
Founder of The Congregation of Our Lady of Charity of the Good Shepherd (Good Shepherd Sisters) at Tours on 11 November 1825, and established their monastery at Angers on 31 July 1829; this congregation has the same mission, but is a contemplative order.
She was recognized as Superior-General of the Congregation on 9 January 1831, and received approval from Pope Gregory XVI on 16 January 1835.
The Congregation has sisters working in Italy, Germany, Belgium, England, Algeria, the United States, Canada, Egypt, Ireland, Austria, India, Chile, Malta, Holland, Australia, and Burma.
By the end of her life, there were over 2,000 sister established in 100+ houses on five continents during her life; this rapid expansion led to her being known as a patron of travellers.